mouseover images © Alfred van Geest
Cell of Staurastrum dilatatum in frontal view. Notice rhomboid outline of the upper semicell.     
Cell dimensions (L x B): ca 40 x 40 µm

Desmid of the month
November 2018
Staurastrum dilatatum
Staurastrum dilatatum is affiliated to S. alternans but cells are distinctly stouter whereas the outline of the semicell in frontal view is more or less rhomboid instead of subelliptic-subtriangular. In apical view, cells of S. dilatatum are 4-5-radiate (versus 3-radiate in S. alternans). In the Netherlands, S. dilatatum is of occasional occurrence, particularly in slightly acidic, mesotrophic fen hollows.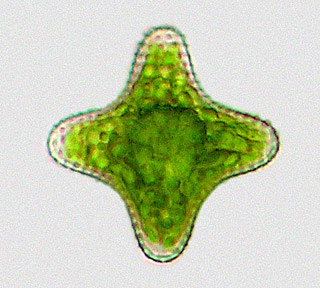 mouseover images © Alfred van Geest

Cell of Staurastrum dilatatum in apical view. Notice its 4-radiate constitution.